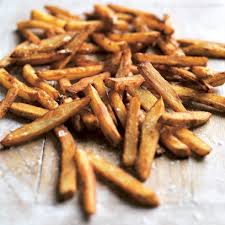 Duck Fat Chips – The best ever!!!
If you are look for the ultimate accompaniment to one our juicy steaks it's right here. Naughty but absolutely delicious!!!!
3 Quarts (3 litres) of Duck Fat
1kg Russet Potatoes
2 Cloves of Garlic
2 Tbsp olive Oil
2 Tbsp freshly chopped flat leaf parsley
1 Tbsp salt
Heat the duck fat to 325°F in a large pot. Meanwhile, cut the unpeeled potatoes into ¼ inch thick french fries. Transfer to a colander and rinse under coldwater until the water runs clear. Drain, then pat lightly dry with paper towels.
A handful at a time add the potatoes to the hot fat and cook for 3 minutes to blanch them. Remove with a slotted spoon, transfer to a baking sheet, and allow to cool. Set the pot of oil aside until just before serving time.
When ready to serve, heat the duck fat to 325°F again. Combine the garlic and oilve oil in a small cup.
Working in batches, add the potatoes to the hot fat, without crowding the pot, and fry until golden brown, 3 to 4 minutes. Transfer to a large stainless steel bowl. Scatter the parsley, garlic oil, and salt over the hot fries, tossing to distribute the seasoning evenly, and serve.