The Matthews family are all lovers of great food. Especially meat!
 The Matthews butchers business was founded over 75 years ago by Albert Matthews. Three generations later the same values held by Albert of selling only the finest quality meat continue to the present day.
In 1935 Albert Matthews opened his first butchers shop. The business soon became a resounding success due to Albert's determination to only use the finest, locally sourced livestock.  As demand continued to grow, and to guarantee a supply of the finest quality livestock to his business, Albert bought a farm and abattoir in Cheshire. Roger, his son,joined the business and shared the same passion as his father to only sell meat from traditional British or rare breeds. 
Together they created longstanding supply relationships with a number of farmers who also shared the same interest in traditional breed livestock. The Matthews' became known for their quality meat from traditional breeds; they also became part of the Certified Aberdeen Angus beef scheme. The business grew to a number of shops across Lancashire and Cheshire.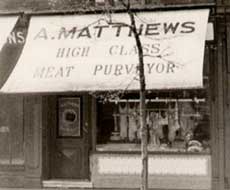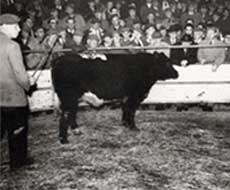 The success continued and the Matthews family soon became suppliers of meat to many leading hotels and restaurants, not just in the local area, but across the UK. Roger's passion for meat was, needless to say, passed on to his children, Sarah and Chris who joined him in the business. Whilst the supplying meat to hotels and restaurants had proved very successful, in 2005 Roger, Chris and Sarah embarked on a plan to return to Albert's original aim of supplying traditional and rare breed meat direct to the public. They did this by using the retail presence at Bury Market.
Bury Market is the undisputed champion of the North, attracting 250,000 visitors every week and it was here that the family chose to relaunch the Albert Matthews philosophy of offering the finest quality meat. Only meat from traditional breeds reared on the Cumbrian Fells, Lancashire and Cheshire would be sold. As always this would be accompanied by the family's closely guarded sausage and dry cured bacon secret recipes.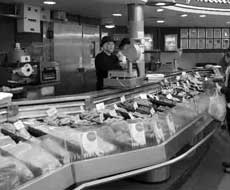 The Matthews family now feel it's time (and only fair!) to make this fantastic meat available to everyone across the UK so everyone can enjoy the finest quality meat sourced by a family whose passion for meat means that only the best is good enough.The results have been amazing with the business going from strength to strength. The rare and traditional breed meat, sausage, dry and special cured bacon have now received over twenty regional and Great Taste Awards and in 2008 the blackstrap bacon was awarded by North West Fine Foods the best bacon in the North West of England.