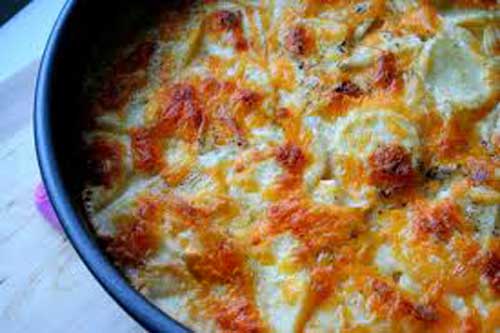 1 brace of pheasants
1 glass of sherry or white wine
1 bouquet garni
3oz cooked pasta (small shells look attractive)
1 Medium onion
1 red or green pepper chopped and blanched (save a little for garnish)
8oz sliced mushrooms
4oz small mushrooms for decoration
Sauce
1 pint of stock from pheasant casserole or use a couple of stock cubes
1 pint of milk
3oz butter
3oz flour
6oz of mature cheddar, save 1 ½ oz for top of finished dish
If using pheasants place in casserole and fill up to 1/3 with stock or water. Add a glass of sherry or wine and bouquet garni. Cover with lid and cook slowly for 1 ½ hours.
Make cheese sauce i.e. melt butter and add flour, cook gently for a few minutes and gradually add milk, stock, seasoning and most of the cheese.
Remove meat from pheasants or chop up ** cold turkey and place in a large bowl.
Lightly fry onion, pepper and mushrooms in a little butter and add them with the cooked pasta and cheese sauce to meat in bowl.
Put in shallow oven – proof dish and cover with remaining cheese. Reheat in moderate oven until hot and bubbling.
Decorate with remaining lightly cooked mushrooms.
Good served with sprouts….believe it or not!
Notes
**The same recipe can be used with leftover Turkey at Christmas.