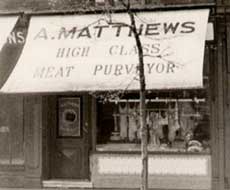 A couple of years ago, being a butcher has been considered a bad move. Most traditional family owned butchers have chosen to close their shops over the last couple of decades because they can't compete with the low prices at high street supermarkets. A lot of people thought that the age of butchers was already over, until the arrival of online butcher services.
In the past, buying meat meant heading to the local butcher shop. That was until supermarkets have cornered the market and offered meat at lower prices. But the choice was limited, and the source of the meat is not clear. Those who choose to purchase good quality still go to their favourite butcher, who can provide advice on what to get and offer a wide range of cuts that supermarkets can't compare. The bad news is business is not good for local butchers, and that's why they chose to just close their shops.
When online butchers arrived, there was resurgence in the industry and more independent butchers opened shops throughout the country. They have the internet to thank for this renaissance period because it levelled the playing field and allowed them to reach out to more consumers.
Now consumers can order their choice cuts right from the comforts of their homes. There's no need to brave the traffic to go to the local butchers. Finding top quality meats has become much easier with an online butcher. You can browse through the meats and order without having to go out of your home. All orders are delivered to your doorsteps.
Everyone needs protein in their daily diets, and one of the best protein rich foods that consumers can buy is lean meat. Meat has a distinct flavour that people look for, whether it is roasted, braised, stir-fried or combined with other ingredients. When buying meat, the best method to get top quality cuts is by ordering from an online butcher. Below are the reasons why you should use an online butcher.
Quality and Freshness of the Meat
You might have experienced getting less than satisfactory quality from local butchers. An online butcher will ensure that their inventory are packed, stored, and delivered at their prime conditions. They source their meats from specialised farms and utilise the most advanced flash freezing technology to ensure that the quality and nutrients of the meats are preserved properly. Chilled meat is frozen at the peak of its freshness. Chill temperatures are sustained throughout the distribution process to ensure the freshness, eating quality and nutritional value of the meat. The cold temperature also enhances the safety as it prevents the growth of bacteria that causes food poisoning. It is also the reason why it has a longer shelf life.
Online Butcher Prices are Affordable
One of the reasons why you should use an online butcher is the low prices. Consumers can save a lot when they do their meat shopping through online butchers. An online butcher shop saves on overhead costs, such as staff salary, store rental, and a lot more. The savings they get are given back to the consumers. That's why consumers are more compelled to purchase from online shops. Online sellers also provide bulk orders at very good rates.
An online butcher is a meat wholesaler and their product turnaround rates from delivery to sale are quick. Meat is ensured to be the freshest one available. They don't employ any middle man, and that's why they are able to pass on the savings to the consumers no matter the quantity they buy. They ensure that consumers can enjoy a nice steak whenever they crave for one.
Even if you are not a professional chef and just cook at home, you know that there are certain portions and cuts that would work for specific meat recipes, whether the meat is braised, roasted, stir-fried, or any other dish. For example, barbeques require a certain amount of fat in order to stay juicy and tender. Pure lean meat will quickly dry when cooked on an open fire. If you are going to cook baked pies, then you need to use ground meat that's lean to prevent soggy pastry. An online butcher can provide a wide range of meats whether you are looking for meat to meet dietary restrictions or ethical choices. You can get quality steaks, roasting joints, poultry and speciality cuts. An online shop will have various grades, cuts, and portion controlled sizes to meet all budget and cooking needs. You can also compared the products and see how they look like.
Purchasing your meat online is just like buying any item online. You must ensure that you are dealing with a reputable online butcher who can pledge that their meat are fresh from the field and delivered in specially chilled containers to one's door. Meat is not stored for months, and there are no preservatives added to it. Be sure to check their website and read where their meat comes from and how they prepare it. You should read the reviews and check their products.
Consumers can now purchase quality meat through online butcher shop. They allow consumers to enjoy a hassle-free way of getting meat. Discover how you can save time and money by getting your meat through one of the online shops today. It is definitely the most convenient and easiest way to purchase meat.