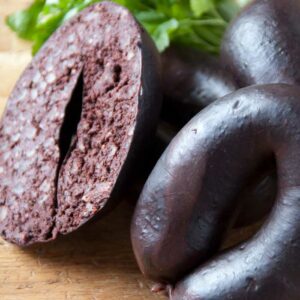 Black pudding is a popular delicacy from UK and Ireland that is completely filled with delightful flavour and very rich in nutrients. It is primarily served with foods at breakfast and accompanies by bacon, eggs, toast and sausage. Huge numbers of people are very skeptical about having a try with this food, which is likewise called blood sausages. There are also some who are very reluctant eating such type of food. This is because they are thinking that this is a complicated item for them to cook.
Black pudding is a highly nutritious food that can be cooked and prepared in less than ten minutes. This item can be purchased in different supermarkets and even to specialist butcher where bloods of animals are sold. This is also pack in sausage shape in its sausage casing. Here are the simple yet easy steps you need to follow when you opt to prepare or cook for your own black pudding at home and these are as follows:
Black Pudding Cooking Instructions
Get the black pudding out of its packaging. Make use of a small pair of knife to cut the outer portion of the packaging.
Cut it into slices. It is highly recommended for you to lay it out on a slicing board and then make use of the knife to cut it into different slices. If possible, make the slices of the black pudding approximately half of an inch at about 1 to 1.5 centimeters thick.
Heat the pan. Turn on your stove at an appropriate temperature and let the pan to warm for about three to five minutes.
Add the butter to your pan. Let the added butter to sizzle and melt in the pan for about thirty seconds.
Put now the black pudding on the pan. Fry the food you sliced for about three minutes on any side while turning it regularly. You can make use of spatula in turning the slices to assure that they are all evenly cooked on both of its side.
Sprinkle some pepper, salt to taste. Allow the slices to rest for about two to three minutes and then serve.
Put the black pudding on the plate and then serve it as part of your meal.
These are just some of the simple steps you need to follow when you opt to cook for your own black pudding at home. There is no sauce that can be associated with this black pudding but you can make your own if you want. Black pudding is a good example of highly nutritious foods and though it is not traditionally served to be part of your dish but this can be served as an additional food item that can uphold delicious and palatable taste in your mouth.
Cooking black pudding is not as hard as what you think provided that you have with you the black pudding and all the materials and ingredients that need to be used in the cooking process. Cooking black pudding takes time and effort towards a delicious and healthy dish at the end.
Other Black Pudding Articles
Black Pudding what is it made of?
Black Pudding Recipes
Black Pudding Stuffed Braised Beef Olives
Black Pudding Recipe – Rack on Black